Images Forever Widget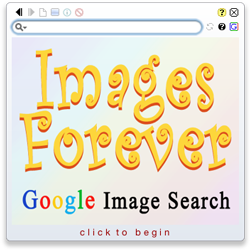 Starting in December of 2013, ImagesForever is no longer compatible with Google. It was fun while it lasted! It provided a nice compact browser-like interface to Google's Image Search.
To use ImagesForever, you would enter a search term or click one of the search buttons. ImagesForever would query Google Image Search, select a random image from the results, fetch the original image, and display it for you. You could then click the Google button to see the complete search results in Safari.
Options included:
100 image history
Moderate SafeSearch option
Filter by Image Size
Set Desktop to the current image
Block disturbing image from reappearing
Three background matte colors
The widget is still available for you to download, study the code, and modify for your own purposes. Perhaps it can be made to work with other sites that have image searching.