About FretPet

FretPet is a guitar-oriented music sequencer. Its dynamic interface makes writing music fun and surprisingly easy. FretPet is centered around the six-string guitar, so it makes an ideal reference tool for finding the names of chords on the fretboard. The program can show you any chord in any tuning.
Writing Music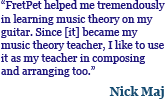 Writing music with FretPet is amazingly intuitive. A FretPet Composition is built from small repeating sections. Simply select a range of chords, press play, and those chords loop repeatedly while you edit them. You can make changes to any aspect of your composition as it plays without any interruption in flow. And the Free Edit Mode allows you to completely control the movement so you can use FretPet as an improvisational instrument in live performance.
Guitar Expert
FretPet was originally conceived as a tool for making guitar chords and finding chord names. The interface of FretPet still centers on these functions. Without ever creating a document you can make a chord, see all its possible names in the Chord Palette, see and hear all its fingerings in the Guitar Palette, and modify it in dozens of ways via the Circle Palette and Chord menu.
Music Reference
Playing with FretPet is an interactive learning experience. FretPet presents notes, scales, and chords in a straightforward and pleasing way, making it easier than ever to discover and explore harmonic relationships. Music students will have no trouble comprehending the way chords and harmonies relate in FretPet. Beginners will see a whole universe of music theory take shape before their eyes and ears.
MIDI Control

FretPet X uses Apple's CoreMIDI technology to provide a MIDI source for external and software synthesizers alike. You can use FretPet to play through GarageBand, Reason, Absynth, FM7, and dozens of other synths and utilities. Just as these synthesizers enhance the sound of FretPet, FretPet X takes these popular titles to entirely new and exciting places.

Requirements
Requires a PowerPC or Intel processor
Mac OS X 10.3.9 or newer
256MB RAM
1024 x 768 Display Resolution
Features
Create and modify chords with simple point-and-click interfaces
Instantly find guitar fingerings for any tuning and position
Compose chord progressions and picking patterns
Play through QuickTime and MIDI outputs
Play through synths like GarageBand, Absynth, FM7, etc
Export MIDI files and QuickTime Music Movies
Find all twelve names for any chord
Transpose and harmonize chords on the fly
Use filters to transform entire groups of chords
Absorb music theory without breaking a sweat
New for Mac OS X
Multi-level Undo / Redo
New Channels Palette with QuickTime and MIDI options
CoreMIDI support enables FretPet to act as a MIDI source
Improved color-coded Scale Palette
Roundly redesigned Circle Palette
Improved Filters menu with three different apply modes
Clone Filter with "Harmonize/Transpose Each" option
Improved Fret Bracket appearance and behavior
Added playback animation to Keyboard, Circle, and Guitar palettes
Sliders and other controls respond to the scroll-wheel
Proportional sized frets in the Guitar Palette
Larger guitars suitable for modern hi-rez displays
Larger Keyboard Palette display options
Customizable Guitar bundles (easy to create your own)
Guitar Palette now displays notes as dots, letters, or functions
"...award-winning..."
Well, it won one award, anyways...

FretPet 1.3.4 was awarded a shared Prize in the "Other Applications" Category at The 1998 International Music Software Competition, sponsored by The International Institute of Electroacoustic Music.

FretPet shares this award with Guitar Studio (Windows 95/98) by Nicolas Manel.

The 1997 winner was MIDIGraphy by Masao Maeda.


The International Institute of Electroacoustic Music